Senez 28 (2005)
Date of publication: 2005
ISSN: 1132-2152
L.D.: SS-1152/01
160 pp.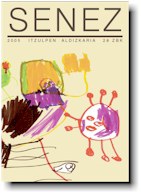 ---
All articles in this issue have been published in Basque, except the presentation and an article by Bego Montorio.
---
Presentation
Gotzon Egia
Translation: Juan Mari Mendizabal
This 28th issue of Senez opens up with a literary translation, in the same vein as we have done in all issues since 1999: Joxerra Garzia selected six of the «Stories of Mr. Keuner» by the great Berthold Brecht, and translated them for us. They are short, but at the same time rich enough to trigger the reader's curiosity.
Fernando Rey comes with a paper which is close to self-criticism in translation, on the «false friends» that he met, as if they were traps set on purpose to divert the translator from the right path, when translating Antonio Tabucchi's «Pereira declares».
Next we have three articles which shape the history of Basque translation: in a more personal vein, Bego Montorio informs us on the different works she has translated from Galician, in a transcription of the talk she gave in Vigo (Galicia) in February 2005; teacher and translator Ibon Uribarri reviewed Schiller's Basque versions, sharp and detailed; and Josu Barambones explains in a well documented piece the progress made by Basque translation in audiovisuals.
Two problematic aspects of translation are reflected upon in the following two articles: Bego Montorio writes on an aspect of translation that has seldom been researched: - the translation of comics; Alfontso Mujika, on the other hand, and with his usual elegance, has scanned the Basic Standard Basque Dictionary from the point of view of sci-tech terminology.
The next item comes on the heels of the Sessions on Proofreading that we organised in 2004. We gathered a «committee of experts» to discuss the booklet on orthotypography written by Joxe Ramon Zubimendi as a part of the works published by the Assessing Committee for Teaching Materials, and to see in which way its contents could be useful for translators-proofreaders. So, we have brought to these pages the result of the discussions held amongst the experts.
The last pages of the magazine, as usual, are dedicated to interviewing a translator: these are the long-distance conversations held between Javi Cillero and Carlos Cid Abasolo.
Is Senez unable to shrug off the weight of having to publish an issue before the year ends? Sometimes we are overwhelmed by that despair, to tell the truth. May that all be for the better!
---