Senez 25 (2002)
Date of publication: 2002
ISSN: 84-7086-287-1
L.D.: SS - 0001/03
128 pp.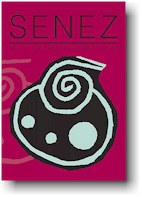 ---
All articles in this issue have been published in Basque, except the presentation.
---
Presentation
This year comes full of new challenges for Senez magazine and, in general, for EIZIE. When the European Council of Associations of Literary Translators (CEATL) held a meeting last autumn in San Sebastian, we published a special issue of Senez (issue 24, to be precise) in October, with the articles published since the magazine started in 1984, translated into French and English. In that special issue we wanted to give an overview of Basque translation, and the effort apparently yielded proper results.
This year's ordinary issue, though, follows the usual path. We have first focused on translation, as in previous years. A. Barquin, G. Markuleta, I. Zaldua and I. Zurutuza have contributed with a sort of anthology of really nice 'hyper short stories', including 22 short stories, accompanied by an illustrative introduction. Hyper short stories bring undoubtedly a special approach to short stories as a genre. Following the short stories translated from different languages, comes the translation into Spanish of two short stories representative of this genre in Basque.
Translation and computers — this is how we might entitle the link between the two following articles. In the first of them, A. Diaz de Ilarraza, A. Mayor and K. Sarasola, from the IXA group created at the Computers Science School in San Sebastian, explain the work they have developed on a specific aspect of automatisation in translation: automatic translation based on examples. As computer experts, they have a special approach to translation, not so based on linguistics as a translator's focus, but nevertheless meaningful and worth knowing. We are very grateful to them for the effort they have made when writing the article by suiting it to the understanding of the general public. The contribution by Karlos del Olmo is in many ways different: he explains in what ways a specific system of translation memory (Wordfast) can be helpful. These are words full of didacticism, that can be of great use for dispelling the doubts and worries of the translator not yet daring to get into translation memory tools.
Leaving aside the problems of automatisation in translation, the next two highly interesting articles deal with grammar and syntax. In the first one, A. Bengoetxea presents a splendid and well documented paper on the problems created by declination suffixes in noun coordination, and he does so by studying the roots of our classical literature. B. Hidalgo, on the other hand, has dared to shed some light on an eternal question — the word order in a sentence. These are undoubtedly deep waters, but when you look at it through the translator's glasses, as Hidalgo does, anybody can learn something helpful for everyday usage.
As a last item, we chose to interview a translator who breaks many stereotypes and prejudices: Bego Montorio. Having followed an unusual professional path in her youth, she knows the translation profession in and out, and she point out many keys to a better understanding of Basque translation. We daresay that the interview we did with her is a reading must for any wise translator.
Translation: Juan Mari Mendizabal