Senez 22 (2000)
Date of publication: 1999
ISSN: 84-7086-287-1
L.D.: SS-1151/2000
112 pp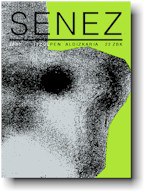 ---
All articles in this issue have been published in Basque.
---
Presentation
Translation: Juan Mari Mendizabal
Although unintended, this 22nd issue of Senez comes out at about the same time as a milestone is established in Basque translation: this year, on the threshold of a new century, official translation and interpretation studies will be offered at the University of the Basque Country. For some, these studies come too late; for some others, they are of dubious usefulness, as it seems the syllabus has been shaped without taking into account the majority of Basque translators' work source - i.e., translation between Spanish and Basque. Be it as it may, our profession has risen, 'borne by the wings of knowledge', to an academic level; the future will tell if we have courage enough to make good what is wrong, to open up a way and to walk it step by step.
As in our previous issue, translation is again the opening topic in our magazine. This time, singer Anje Duhalde has stepped into the translators' arena, bold as bold can be. He has borrowed a series of poems from French poet and singer George Brassens and translated them directly. We have made a selection of these - they are poems full of tenderness, deep and mischievous smiles, sewn with the sharp look of the old singer.
Manu Lopez Gaseni, Vitoria-born professor, contributes with a summary of a longer and deeper research which could be of help when shaping the tasks and goals of translations for children's literature from other languages into Basque. The lesson lies in the very approach: contrary to modern literary creation, Basque translation has always tried to turn young people's literature to its advantage. Knowing how the translators in the past undertook their task and researching their shortcomings compared to those of the present day will be useful tools for currently working translators.
Quality standards have been used for some time now in many spheres of production and services, and have only recently been introduced in intellectual activities such as translation. Karlos del Olmo has decidedly set out on this path, first by dedicating the whole 1999 course within the framework of the Summer Basque University to that topic, and now by doing an extensive and deep investigation on quality standards.
Then follows the section with news items from the world of translation, opinions and reflections, divided into three parts: the paper read by Koldo Biguri at the 1998 writers' meeting in Verines (translated by Mari Jose Kerejeta); the interview with translator Antton Garikano; and a short account of the presentation of Jose Saramago's book on the history of the Lisbon siege, together with a reflection by his translator, Jon Alonso.
Finally, Senez magazine wants to pay tribute to translator Jose Luis Etxeberria 'Txigua', who died last year. A pioneer translator in the Administration and in official spheres, he was working in the Basque Parliament during his last years. Thanks to his colleagues, we can publish here the article written by Jose Luis Etxeberria.