The translators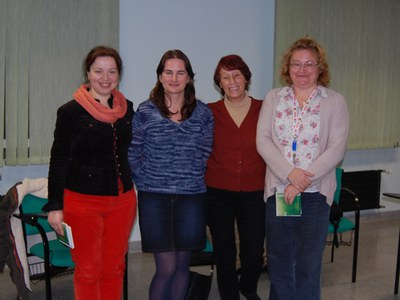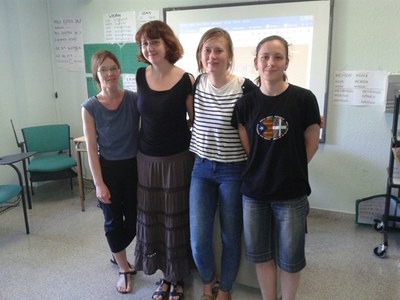 Six-month residency
Laura Liubinavičiῡte (Lithuania)
In addition to being a literary translator, Ms. Liubinavičiῡte has worked for a company as logistic coordinator since 2012. She has translated the works of many famous authors from Polish and Spanish into Lithuanian; for example, Julia Navarro, Ángel Guinda, Abel Murcia, Espido Ferire, and Vargas Llosa.
Katarzyna Sosnowska (Poland)
Ms. Sosnowska is a literary translator who also works as an editor and subtitler. She translates learning materials and popular literature from Spanish, English, and German. She is a member of the Polish Literary Translators' Association (STL), and as part of this program she plans to translate Kirmen Uribe's Bilbao-New York-Bilbao and introduce contemporary Basque literature to the Polish audience.
Mariya Pachkova (Bulgaria) Ms. Pachkova is a literary translator, radio journalist on Spanish radio programs, and Spanish professor. She has been translating since 1975, and translates especially from Spanish and French into Bulgarian, but she also knows Russian, English, Portuguese, and Italian. She has translated some thirty books from Spanish, by authors including Carmen Laforet, Julio Cortázar, Carlos Fuentes, Cirilo Villaverde, Juan Marsé, Ricardo Piglia, and Manuel Rivas, among others. She translated Bernardo Atxaga's Soinujolearen semea (The Accordionist's Son) and Obabakoak from Spanish. Her plan for this project is to translate two works by Arantxa Urretabizkaia.
Barbara Pregelj (Slovenia)
Ms. Pregelj is a professor and researcher at the University of Nova Gorica. She is also a literary translator, qualified translator-interpreter, and publisher. She has translated over 300 works from Spanish, Galician, and Catalan into Slovenian: Bartolomé de las Casas, Carlos Puerto, Jorge Izaca, Carlos Fuentes, García Lorca, Miguel de Unamuno, Sergio Pitol, Vargas Llosa… She has also translated works by Basque authors Juan Kruz Igerabide, Patxi Zubizarreta, and Mariasun Landa. She also translates into Spanish.
One-month residency
Matylda Figlerowicz (Poland)
As a doctoral student in the Department of Comparative Literature at Harvard University, Ms. Figlerowicz studies contemporary literature in Spanish and Latin American languages; for example, Spanish, Catalan, Basque, Galician, and Nahuatl. In a book she published last year, La memoria en construcción. La experiencia dictatorial franquista y comunista en las literaturas catalana, española y polaca (Poznan: Osrodek Wydawnictw Naukowych, 2015; Mercè Rodoreda Award, 2015), she examined how dictatorships create memory.
Merilin Kotta (Estonia)
Ms. Kotta is a professor and researcher at Tallinn University, teaching classes on culture, history, literature and literary translation. She has translated two novels: Carme Riera La meitat de l'ànima (The Soul's Other Half) (2011) from Catalan, and Carlos Fuentes' Diana o la cazadora solitaria (Diana, the Goddess Who Hunts Alone) (2012) from Spanish.
Lenka Nižnanská (Czech Republic)
It was anthropology opened the doors to Basque for Ms. Nižnanská, a cultural and social anthropologist. During her two years doing research in the Basque Country, she discovered Basque and fell in love with it, and decided to live in Basque to experience firsthand the worldview proffered by languages in general. She is currently translating various works by a Basque author for the Brno (Czech Republic) festival of literature. As a student, she completed various translations and worked as a language teacher.
Karina Mishchenkova (Russia)
Ms. Mischenkova holds a degree in Iberian-Romance philology, and wrote her thesis on some of the differences in grammatical values between Basque and Spanish. She studied Basque in Moscow, but also as an exchange student in the Faculty of Arts of the University of the Basque Country. She has worked in both television and film, and wrote the script for a documentary on the distribution of blood types among the Basques. She currently works as a freelance teacher, translator, and interpreter in Moscow.