'Meetings in Poland' - New Translators 2019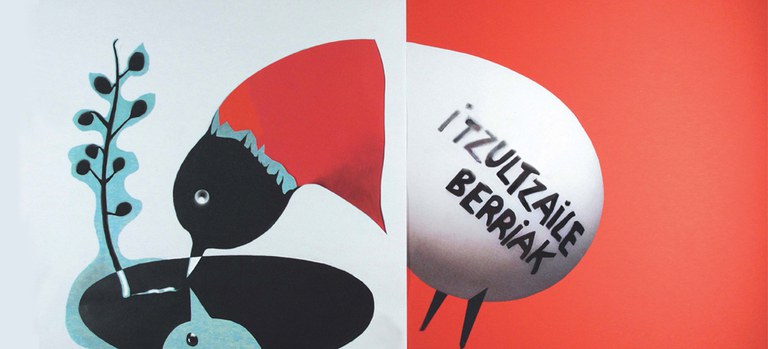 This year there were talks about translation offered in Poland through the New Translators program. Under the motto «Translation, bridge between cultures», three events were organized by EIZIE in conjunction with the Etxepare Basque Institute for the specific purpose of speaking about the importance of translation in Basque literature (and culture).
Read about the experience here, as told by Danele Sarriugarte:
---
Seeking a bridge to Warsaw
Seizing the opportunity offered by the New Translators program, a delegation from EIZIE went to Warsaw: three itineraries, three perspectives, three translators – Arantzazu Royo, Katarzyna Sosnowska, and myself, Danele Sarriugarte. We did not travel alone; Arantzazu and I carried Anjel Lertxundi's latest work, Itzuliz usu begiak, in our suitcases, thinking it would help us reach to the farthest corners of Basque translation like a small encyclopedia. Kasia, however, bore the fruits of a different labor: Bernardo Atxaga's Samotny mężczyzna (The Lone Man, that is).
Like Lertxundi's Berbelitz, we landed at Warsaw's Chopin Airport – Lotnisko Chopina–, and that's how we learned that names are declined in Polish. The first bridge. 
We participated in three activities on our five-day trip. Just the right number. The day after we arrived, we went to the university, to the Institute of Iberian and Iber-American Studies, or Iberystyka, as they call the department that includes the languages and cultures of the Spanish State, where with the assistance of lecturer Aitor Arruza we met with young Polish and Ukrainian students studying Basque. We introduced ourselves, and tried to transmit a bit of our language and literature.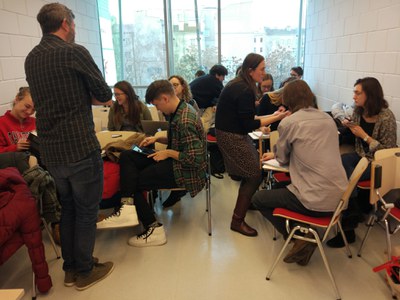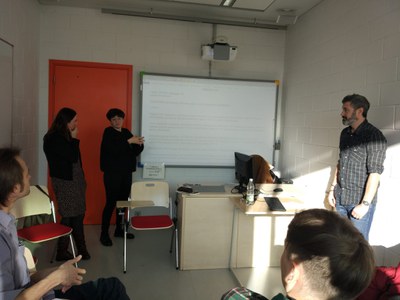 We suggested an exercise: translate into Polish the first short chapter of Azala erre, my second novel. For several years, EIZIE has done similar workshops through their Writer in the Translators' Workshop program. It was a little different this time: the students had only just begun to study Basque and are not professional translators; for some, it was their first time at such an exercise. There were a few surprises. The Ukrainian students wanted to translate the passage into Russian: we found unexpected multilingualism. And, also unexpectedly, as our session was coming to a close, the students asked Aitor if they could continue working on their translations in their next class. Kasia and I were willing to help on Skype or by email. Once they finished, perhaps it could be published in the university magazine? With the joy of having sown the seeds of translation, we set off to explore the city a little more. 
On the second day, we had a more official event, perhaps the most official. Aitor had organized a roundtable discussion in conjunction with the Cervantes Institute. Kasia, poet, translator and Warsaw Cervantes Institute director Abel Murcia, and I gathered around the table. Issues, reflection, questions – a little bit of everything. In addition to being a translator, is the translator a cultural ambassador? What subtle differences are there among a small language, a minoritized language, and a minority language? Polish, for example, is not a minoritized language, but it is not spoken officially outside of Poland (unlike Spanish, French, and English, which are spoken outside their countries of origin…). When it was time for questions, people expressed their interest in Kasia's work. And this left us with some lovely reflections: it was said, for instance, that, because of the different linguistic structure of the Basque language, translating from Basque changes the way one approaches texts, since one begins translating paragraph by paragraph rather than sentence by sentence.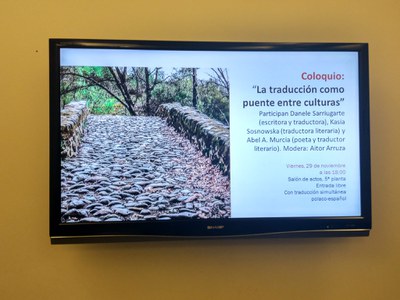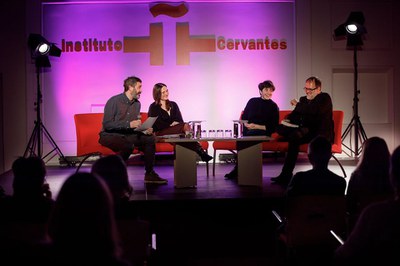 On the third day, we had a delightful engagement at the Polish Literary Translators' Association. They have new offices, and welcomed us to their large, bright, and rather empty location in a quiet neighborhood. We sated ourselves with delicacies from both countries and with publications. Dorota Konowrocka offered the statistic: of books published in Poland, half are translations. It is a large number, and this may explain why Poland has more than one translators' association: not only literary translators but also interpreters and translators from other fields have their own meeting places.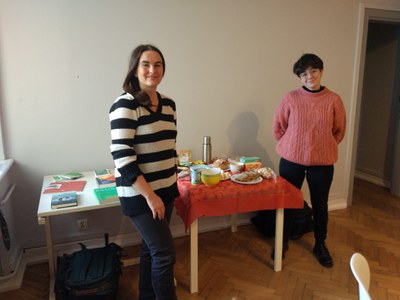 Polish literary translators are an active group. Our conversation will be on the radio. Arantzazu spoke about the Universal Literature collection. Why is it important to have classic works in our own language when most Basque speakers can read Spanish or French? We consider it an essential part of living in Basque. For example, Arantzazu stated that from now on, we will be able to refer to Gailur Ekaiztsuak, rather than to Wuthering Heights or Cumbres Borrascosas. I myself mentioned how much I enjoyed Jane Austen's humor and piercing social commentary this year in Harrotasuna eta aurrejuzguak, Ana Morales' excellent translation of Pride and Prejudice. 
As I said at the beginning: we worked hard, but we also had the chance to get to know the city a little. Last month's big news from Warsaw is evident: Olga Tokarczuk won the Nobel Prize. As we meandered through bookstores, we were quickly approached by clerks, the prize-winning Flights (translated by Jennifer Croft) in hand, saying, "And here's our Nobel." Things are well on their way for us to be able to read Tokarczuk in Basque next year, thanks to a Jokin Zaitegi grant. May there be ever more bridges.
Danele Sarriugarte Mochales
9th December, 2019
(Translated by Kristin Addis)