The Harvest: Publications
The 2016 Writers and Their Translators literary translation workshop, entitled Translating Exile, has been brought to harvest.
Publications
Seven translators participated in the workshop (as part of the New Translators program), collaborating with two invited writers. Here we publish the fruits of their labors, planted in the spring and ripened in the summer during the workshop. These translations, a selection from Koaderno gorria (The Red Notebook) by Arantxa Urretabizkaia and twelve poems by Joseba Sarrionandia chosen by the author himself for the workshop, thus begin their journey as a multilingual message in a bottle. Entrusted to the ocean by the hands of excellent ambassadors, the beautiful melodies of their new variations will undoubtedly fall upon willing ears on the shores of faraway lands.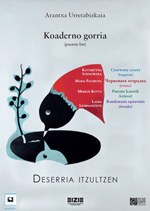 Arantxa Urretabizkaia
Koaderno gorria (AN EXTRACT)

Basque
Polish
Bulgarian
Estonian
Lithuanian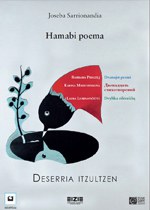 Basque
Slovenian
Russian
Lithuanian
Koaderno Gorria has been published in English, as well as in Spanish, German, Italian and Russian. Joseba Sarrionandia's poems have been published in a number of anthologies.
Read more about the authors in the anthology Contemporary Basque Narrative (Basque Anthologies Series, 2013, Etxepare Basque Institute).
Videos
Public presentation: discussion and reading (in Basque and Spanish)
Aiora Jaka on Sarrionandia's translation practice (in Basque)