Conference: Translating Small Literatures in the British Book Market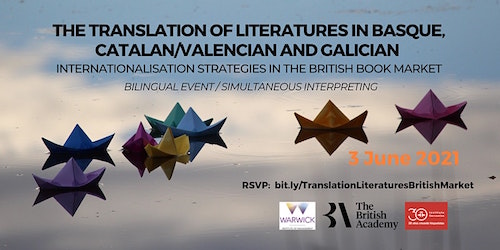 Date and time: Thursday, 3 June 2021, online.
---
The translation of literatures in Basque, Catalan/Valencian and Galician: Internationalisation Strategies in the British Book Market
This event will discuss current challenges and opportunities faced by literatures written in the Basque, Catalan/Valencian and Galician languages in their translation into English. Scholars, delegates from source-culture institutions and representatives from the British publishing houses that are currently leading the translation market will explore the following questions: What makes British publishers translate literature written in lesser translated languages? Do translation grants matter? What is the circulation and dissemination of translated literary works from these languages? How are they received in the anglosphere? Will the 2022 edition of the Frankfurt Book Fair, in which Spain will be guest of honour, be a turning point in the internationalisation of these literatures?
These sessions will be of interest to:
Readers of translated literature
Literary translators working in the Anglophone market
Translation-policy makers
Writers looking to internationalise their literary production
Literary agents
British publishers and source-culture publishers with translation rights to sell
To anyone who loves books, cultural exchanges and translation
This is an initiative organised by Olga Castro (University of Warwick) and Laura Linares (University College Cork), in collaboration with the Instituto Cervantes in London.
Programme and registration: here