DSS2016EU, Etxepare and EIZIE have chosen the translators who will be bringing Basque literature to the international stage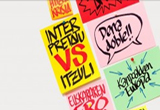 DSS2016EU and the Etxepare Basque Institute have launched the New Translators project to select the literary translators who will translate various works written in Basque for readers all over Europe. Foreign translators were invited to apply in April and, of the thirty applications that were received, eight successful candidates have been selected. The eight chosen translators will be taking part in two types of visits: four will be staying for six months, while the other four will be spending a month with us, taking into account the latter group's knowledge of Basque. Long stay: Laura Liubinavičiῡte (Lithuania), Mariya Petrova Pachkova (Bulgaria), Barbara Pregelj (Slovenia) and Katarzyna Sosnowska (Poland). Short stay: Merilin Kotta (Estonia), Karina Mishchenkova (Russia), Lenka Niznanska (Czech Republic) and Matylda Figlerowicz (Poland).
Stays
Four translators will spend six months in the Basque Country to complete an intensive course in Basque. The aim is for them to attain a sufficient level of Basque so that they can use it as a pivot or source language when translating the texts.
Not only will the project encourage people to learn Basque, but it will also promote the creation of texts. The four translators who are staying for an extended period of time will therefore receive funding to translate a piece of Basque literature into a language other than Spanish. There will also be a search to find a publisher that is willing to print the work. This will ensure the success of the initiative´s ultimate objective: to raise awareness of Basque texts throughout Europe and to give foreign readers the chance to access Basque literature.
The four remaining translators will stay in the Basque Country for a short period of time to improve their level of Basque (level A1, A2 or B1). All the stays will take place between the first fortnight of September 2015 and the end of June 2016.
Workshops and public conference in 2016
During the second stage of the New Translators project, the eight translators will also be taking part in a workshop. This will take place at Tabakalera in autumn 2016. At the workshop organised by EIZIE (Association of Basque Translators, Proofreaders and Interpreters), each international translator will team up with a Basque writer. The local authors will act as hosts to the translators who have come from abroad and they will create networks between themselves.
After the workshop, there will be a conference which is open to the public. The event will have a specific programme and will be attended by the participating translators, various schools and cultural centres in the city.