Jose Saramago, the translators' friend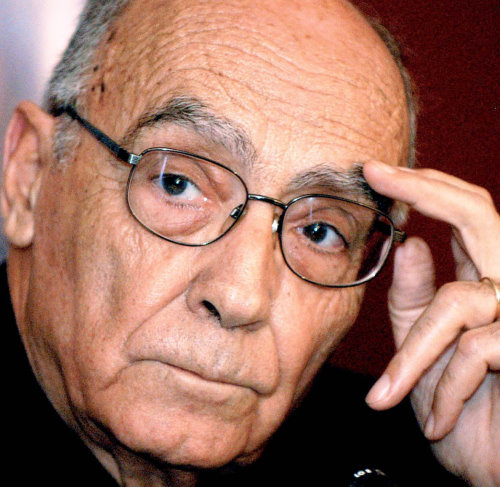 The Portuguese writer José de Sousa Saramago has passed away at his home in Lanzarote (Canary Islands, Spain). He was 87. He was one of Europe's most important writers and won the Nobel Prize for Literature in 1998.
Jose Saramago has handed down numerous works to posterity: poems, novels, short stories, plays and essays. He was not only a prolific writer, he was also firmly committed socially and politically throughout his life. Among other things, he opposed Israeli policy in the Middle East, and expressed clear stances in favour of Palestine. He vehemently criticised the conduct of the Roman Catholic Church on many occasions, particularly because of the approaches shown by the current Pope Joseph Ratzinger in social affairs. Saramago was the target of many attacks by the Roman Catholic Church after publishing O Evangelho Segundo Jesus Cristo in 1991.
Saramago is due to be cremated at the Alto de São João cemetery in Lisbon, after members of the public have had the chance to pay their last respects to him in the main assembly hall at Lisbon City Hall.
Saramago only had one novel published in Basque. It was História do Cerco de Lisboa Lisboako setioaren historia , translated by Jon Alonso and published in 1999 as part of our collection entitled: Unibertsala . When the translation was published, it was presented by Jon Alonso and Jose Saramago in Bilbao at the Bidebarrieta Municipal Library on 7 October, 1999.
Jon Alonso summed up Saramago's work thus in the foreword he wrote to the novel: Lisboako setioaren historia :
«The issues that most concern Saramago appear in all his novels, but each novel is built up mainly around one of the issues. The commitment of the poet, the writer and the artist —to his art, as well as to the society in which he lives— could be the focus of Manual de Pintura e Caligrafía (1977); the novel O Ano da Morte de Ricardo Reis (1984) deals very much with his concern about the literary tradition without the previous issue being totally abandoned; the book O Evangelho segundo Jesus Cristo (1991) enabled Saramago to tackle his intense concern about religion, and especially about the use of religion as something narcotic and alienating; Ensaio sobre a Cegueira (1995) is a sharp examination of the soul of human beings; Todos os Nomes (1997), his most recent work, deals with the futility of our existence.»
Saramago always used to be very sensitive towards the work of translators. Among of the many things he said and wrote about translators and translations, one stands out particularly in a speech delivered in Buenos Aires (Argentina) in May, 2003, at the 4th Conference on Latin American Translation and Interpretation «Translators turn islands of languages that cannot understand each other into places of welcome».