Meeting with the translators at the University of the Basque Country - 2016
The translators who are guests of the New Translators project spoke about their professional careers.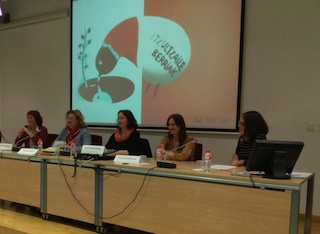 The four guest translators, Laura Liubinavičiῡte (Lithuania), Mariya Pachkova (Bulgaria), Barbara Pregelj (Slovenia), and Katarzyna Sosnowska (Poland), have considerable experience in literary translation, and we had the opportunity to get to know them better with respect to their professional activity. They brought us closer to their respective cultures, and discussed the translation projects they are currently working on.
The meeting took place on May 10, 2016 in Vitoria-Gasteiz, in the Faculty of Arts of the University of the Basque Country.
(More detailed information is available on the Basque webpage).