Multilingual public reading at the San Sebastian Book Fair - 2016
On April 23, for World Book Day, "new translators" Laura Liubinavičiῡte (Lithuania), Mariya Petrova Pachkova (Bulgaria), Barbara Pregelj (Slovenia), and Katarzyna Sosnowska (Poland) visited San Sebastian and participated in two of the activities of the San Sebastian Book Fair.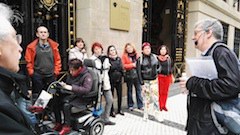 At noon, they enjoyed a literary walk led by writer Inazio Mujika, "Donostia en tiempo de Guerra" ("San Sebastian in Times of War"). The itinerary included Spanish Civil War settings that appear in different novels of Basque literature.
In the afternoon, they participated in a multilingual public reading organized by EIZIE, one of the activities included in the New Translators project, launched by DSS2016EU and the Basque Etxepare Institute, and developed by EIZIE in conjunction with the participating translators.
On this occasion, we had the opportunity to hear the translators in their own languages, in a reading of selections from two of the most translated works:
A selection from Obabakoak by Bernardo Atxaga, in Basque, Bulgarian, and Lithuanian.
A selection from Krokodiloa ohe azpian (A Crocodile Under the Bed), by Mariasun Landa, in Basque, Polish, and Slovenian.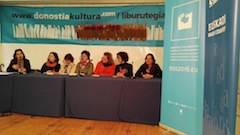 Translator and professor Amaia Donés coordinated the event and, after a brief introduction of the project and the participants, the translators read the chosen selections. Translators Itziar Otegi and Amaia Apalauza assisted them in reading the texts in Basque.
Interesting conversations arose among the translators and the participants at the end of the event.
More detailed information in the Basque and Spanish pages.