Twelve poems by Joseba Sarrionandia and a selection from The Red Notebook by Arantxa Urretabizkaia in several languages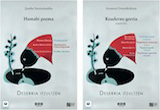 The work of the translators who participated in the 'Translating Exile' workshop led by Itziar Otegi as part of the 'New Translators' program has been brought to harvest in two digital publications produced by EIZIE.
The Red Notebook (a selection from Koaderno gorria) by Arantxa Urretabizkaia, in five languages); 
Twelve Poems by Joseba Sarrionandia, in four languages.
The translations were carried out by the translators during their stay in the Basque Country. The digital publications are the fruits of those labors, planted in the spring and ripened in the summer during the workshop in collaboration with the two writers.
Thus, a selection from Koaderno gorria (The Red Notebook) by Arantxa Urretabizkaia and twelve poems by Joseba Sarrionandia chosen by the author himself for the workshop, have set off on their multilingual journey in search of new readers, delivered from the hands of excellent ambassadors: Barbara Pregelj from Slovenia, Karina Mishchenkova from Russia, Katarzyna Sosnowska from Poland, Laura Liubinavičiūte from Lithuania, Maria Pachkova from Bulgaria, and Merilin Kotta from Estonia.
Together with these digital publications, a video of the public presentation (discussion and reading from the last day) of the workshop has been made available, as have two other works: a video of translator Aiora Jaka presenting her reflections on Joseba Sarrionandia's translation practice, and Iñaki Iñurrieta's article from the journal Senez, on his participation in the workshop.