"Untying the Knots" with the writer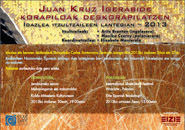 As part of its continual work in favour of literary translations from Basque into other languages EIZIE, with the collaboration of Etxepare Basque Institute , has organized a new edition of the translation workshop The writer and his translators . This year's workshop will focus on literature for children and young people, amongst other things, and the participants will be working with Juan Kruz Igerabide's literary texts. Aritz Branton will translate them into English and Monika Czerny into Polish. Elizabete Manterola will coordinate the workshop.
Work will begin in Donostia on 26th and 27th September at the Carlos Santamaría Centre, and on 30th September, International Translators' Day, the results will be explained at a public event to be held at Koldo Mitxelena Culture Centre. The participants will offer readings of their work in three languages after discussing their experiences in the workshop.
Work will continue in Wroclaw, Poland, at the International Short Story Festival, on 5th October. Elizabete Manterola will coordinate a meeting with the author and his translator into Polish. They will talk about translation and will also offer a multilingual reading.