Jesus Krist Gure Jaunaren Testamentu Berria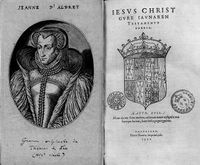 The Fundación Caja Navarra has published a facsimile edition of the Our Lord Jesus Christ New Testament, a translation of the New Testament completed by Joannes Leizarraga in 1571.
The facsimile was created from the original, which the financial institution Caja Navarra in 1995 at an auction at the prestigious Christie's of London for 200,000 euros. The original document is one of the few remaining copies of the princeps edition commissioned by the queen of Navarre, Joana de Albret.
The facsimile is accompanied by a book with texts in French, Basque and Spanish on the life and work of Joannes Leizarraga, written by academics Xavier Kintana, Henrike Knörr and Txomin Peillen.
The work will soon be available in bookshops in a commercial edition with an initial run of 1,000 copies.
Joannes Leizarraga was born in 1525 in Briscous (Labort) and died in 1601 in La Bastide-Clairence. In 1560 he converted to Protestantism (as did the queen of Navarre, Juana de Albret) and put himself at the service of the Synod of Pau, which, to help spread the reform among the population, commissioned him to translate the Bible into Basque. The edition consisted of three books:
Jesus Krist Gure Jaunaren Testamentu Berria, the New Testament;
Kalendrera, a calendar of religious festivals; and
ABC edo Kristinoen instrukzionea, basic lessons on how to read the doctrine.
The three works were published 1571 in La Rochelle (France), a Huguenot stronghold, and, together with the Bible, include writings on Christian daily life. Critics praise the translator for his work in a language which had little written tradition at the time, at least in prose.
The translator made every attempt to be as faithful as possible to the original text. The need to translate subordinate clauses led him to imitate the syntax of the Romance languages. Researchers point out the standardized spelling that the translator used almost without exception throughout the work as well as the many examples of the systematic and meticulous method that he applied. This suggests that Leizarraga, together with his team of assistants, created almost from scratch a standardized version of the Basque language in order to be able to translate religious texts as required by reformist principles.