This year's Independent Foreign Fiction Prize awarded to Agualusa and Hahn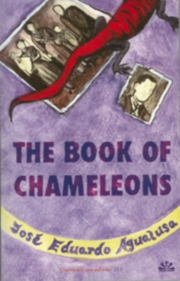 The Angolan writer José Eduardo Agualusa and his translator into English Daniel Hahn have won this year's Independent Foreign Fiction Prize for The Book of Chameleons . The prize, which is given by the British newspaper The Independent and supported by Arts Council England , is awarded annually to the best work of fiction translated into English and is unique in that the monetary award is divided equally between the author and the translator.
The Independent Foreign Fiction Prize is awarded annually to the best contemporary work of fiction, chosen from translations into English published within the preceding year. Its purpose is to encourage union among languages, allowing the Anglophone reader to come into contact with new cultures and ways of life. Its creators hope that as the prize gains recognition and importance, it will inspire British publishing houses to expand their offerings of translations of foreign literature.
This prize is noteworthy in that it gives equal importance to the work of the author and to that of the translator, underlining the value of the translator's work in bridging languages. It is a fundamental tenet of the prize that the translator must restructure the original work to create a new work that nevertheless remains faithful to the original.
For this year's prize, the judges selected a shortlist of five works from an initial list of eighty translations. The finalists included the translation into English of the novel Tu rostro mañana 2. Baile y sueño ([Your Face Tomorrow 2. Dance and Dream] *) by Javier Marías, translated by Margaret Jull Costa, as well as works translated from Greek, Swedish, German and Norwegian. The initial list also included works written in Persian (Afghanistan) and Gikuyu (Kenya). Additionally, the judges gave a special mention to the English translation of Suite française by Irène Némirovsky, which was published last year but was ineligible for the prize, which is awarded only to living authors.
Three years ago, the prize was won by Javier Cercas' work Soldados de Salamina [Soldiers of Salamis], translated by Anne McLean.