A translator of France 2 fired for a joke about Sarkozy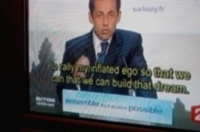 An American translator was fired for a joke on France 2. The translator was in charge of translating the news about the French elections for the US media.
A French TV worker has been sacked for letting a «joke» about UMP presidential candidate Nicolas Sarkozy slip into the English-language subtitles of a news report.
In the US version of a news bulletin by the public broadcaster France 2, April 23, a Sarkozy appeal to French voters to join his campaign («s'unir à moi») was translated as a call for them to «to rally my inflated ego».
The subtitles were broadcast to television viewers in the United States. France 2 director general Philippe Baudillon said the subtitler responsible had been dismissed. He added the freelancers who translate the reports «sometimes joke among themselves by playing around with the subtitles».