Centenary of the birth of Jokin Zaitegi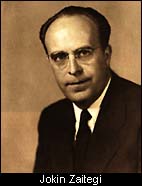 Jokin Zaitegi was born in Arrasate-Mondragón one hundred years ago, on July 26th, 1906. Whether as a translator or as an author, or as a man who committed himself to fostering the making of new texts in Basque, he made an outstanding contribution to the development and thriving of the culture produced in the Basque language, in a time of darkness and plight for everything Basque. All of which qualifies him for consideration among the figures who have striven to strengthen our language and culture.
For the purposes of an appraisal of Jokin Zaitegi's work and endeavour, it must be highlighted that the central idea that inspired all his actions was his zeal for making Basque a means of expression suited not only to the ordinary people's communication needs, but also to the language requirements of the loftiest cultural activities. Zaitegi never failed to stand up for the fitness of the Basque language for all such uses; furthermore, he proved it with his daily work. His sight was always set upon the normalisation of the Basque language.
He studied with the Jesuits in Loyola, where he met other prominent figures of the Basque culture, such as Andima Ibiñagabeitia, Lauaxeta and Plazido Mugika), and he became himself a member of the Society of Jesus. Yet, it so happened that the effort made by all those people in favour of the Basque language came up against severe opposition from certain sectors within the Society of Jesus, which eventually led to Zaitegi's decision to leave the Society, in 1944. From that moment on, he spent many years of his life in Guatemala, working as a professor.
As far as his work is concerned, Zaitegi engaged himself in a variety of disciplines. In poetry, he was the winner of the 5th Olerti Eguna in Zarautz, in 1934, thanks to his poem Tori nire edontzia. He also published a couple of books, Goldaketan and Berriz ere goldaketan, where he collected poems he had written or translated.
His translation work is awe-inspiring. Among others, he translated into Basque all Sophocles' tragedies and Plato's dialogues.
He also published Bidalien eginak, a collection of texts intended for the education of seminarians, which he translated from Latin into Basque. Zaitegi wrote an essay about Plato as well, called Platon-eneko atarian.
But Zaitegi's most remarkable contribution was perhaps Euzko-Gogoa, the first cultural magazine in Basque, which he succeeded to publish for ten years, falling back on his own savings in order to pay the expenses. The magazine was primarily devoted to literature, but it also touched upon other subjects, such as linguistics, sociology, history and philosophy. Around seventy writers wrote articles for the magazine, but the most significant contributions, apart from that of Zaitegi himself, were those of Orixe and Andima Ibiñagabeitia.
The AED association, from Arrasate-Mondragón, holds the Jokin Zaitegi Translation Contest every year, in memory of this writer, poet and translator. The aim of the contest is to produce the Basque translation of a work written by the person awarded with the Nobel Prize in Literature in the previous year.