Dorothy Parker and Danilo Kis translated into Basque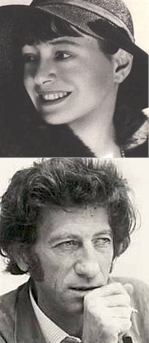 Two new volumes have been added to the Literatura Unibertsala Collection: Hona hemen gu biok (Here We Are and fifteen other stories), by the American writer Dorothy Parker, and Hildakoen Entziklopedia (Enciclopedija mrtvih-Encyclopaedia of the Dead), by the Serbo-Croatian language writer Danilo Kis. The task of translating those works into Basque has been carried out, respectively, by Mirentxu Larrañaga and Monika Etxebarria, both of them members of EIZIE.
Both books are actually collections of short stories. Sixteen tales, written by Dorothy Parker and published in different newspapers and magazines in the 1923-1928 interval, have been put together under the title Hona hemen gu biok, including that after which the book has been entitled. The stories are witty accounts which draw on elements from comedy as well as episodes of suffering, making up those bittersweet texts which abound in this author's literary production.
Hildakoen entziklopedia (Encyclopaedia of the Dead) is also a story collection, which consists of nine tales and a post scriptum which gives ample account of the inception and the historical and bibliographical sources of the book. However, this book, which focuses on death as the main subject, can be taken as a novel, but also as a novel-encyclopaedia, because it can be read just like any book being read for the first time, or as an encyclopedia, an intense and powerful mixture of different concepts.
Dorothy Parker, a U.S. author who is lately regaining well-deserved prestige, and Danilo Kis, considered by some as the "Borges of the Balkans", are the two authors which have now been brought under the spotlight of our collection of universal literature in Basque. The next books expected to be published in this collection are Poil de carotte, by Jules Renard, and Konarmiya, by Isaak Babel. The respective translators of such works will be, according to the result of last year's contest, Itziar Oregi and Olga Martinez de Marigorta.