Basque translation of Heinrich Heine's poems now available on the Net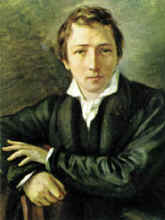 Heinrich Heine , one of the great German writers of the 19th century, died in Paris 150 years ago, on February 17th, 1856.
Coinciding with that anniversary, Susa publishing house has recently added the Basque translation of his poems to its web site.
Heine was born in Düsseldorf in 1797, and was widely acclaimed for his songs and trip chronicles. He criticised the German establishment and predominant ideology, and was a master of irony and sarcasm. His works earned him considerable public attention.
Some of such works were translated into Basque back in the 1920's. For instance, Joseba Arregi, known as Txingudi, translated two poem collections, Bitarte and Itzulia, and published them in the book Heineren olerkiak, in 1927. Txingudi was not the only one, anyway, to translate Heine into Basque: Klaudio Sagarzazu, known as Satarka, Martin Oiartzabal, Jokin Zaitegi and others also contributed to the dissemination of Heine's work with their respective translations of Heine's poems.
At Armiarma.com, an important project that Susa has set up on the Net, you can read the book Heineren olerkiak (Heine's poems) and other separate poems.