Iñigo Errasti Aranbarri will translate Harold Pinter's plays into Basque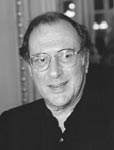 Iñigo Errasti Aranbarri has won the 19th Jokin Zaitegi Translation Contest . Since 2002, the purpose of this contest has been to select the person who will translate into Basque a work by the previous Nobel laureate in Literature. Mr. Errasti is a member of EIZIE, and will be responsible for translating into Basque several plays by Harold Pinter , who was awarded with the 2005 Nobel Literature Prize.
After revising all projects submitted, the jury of the 19th Jokin Zaitegi Translation Contest, whose members were Oskar Arana, Aizpea Goenaga and Xabier Payá, decided that Iñigo Errasti Aranbarri be the recipient of the grant for translating some of Mr. Pinter's works. The 3,000 euro grant is given by Kutxa savings bank, and it entails the task of getting the translation ready for autumn, so that it can be presented at the 2006 Durango Book Fair.
This translation project will make it possible to read in Basque five plays written by Harold Pinter, which will be published by Elkar publishing house. The plays are The Lover, Old Times, A Kind of Alaska, Party Time and Mountain Language.
The Jokin Zaitegi Translation Contest is organised by the association AED-euskara elkartea, from Arrasate. After the terms of the contest were modified in 2002, Zoririk ez (Sorstalanság,) written by the Hungarian Imre Kertész and translated by Urtzi Urrutikoetxea, and Lotsaizuna (Disgrace), by J.M. Coetzee, translated by Oskar Arana, have been made available to the Basque reader by means of this initiative (last year the grant to translate Elfriede Jelinek had no recipient). The contest is expected to take place every year, thanks to the help of Elkar publishing house and to the grant given by Kutxa.