Karlos Zabala, Euskadi Award for Translation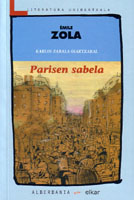 Karlos Zabala (Irun, 1963) has received this year's Euskadi Award for Translation for his translation of Emil Zola's novel La ventre de Paris from the original French to Basque.
The jury emphasised "the faithfulness to the original given that the translation respects the original and manages to capture its spirit". Besides Karlos Zabala, the finalists that were considered for the Award were:

- Oscar Arana (Lotsaizuna. Coetzee, J. M., Elkar)
- Julen Gabiria (Peter Pan James Matthew Barrie Alberdania & Elkar. Literatura Unibertsala 112)
- J.K. Igerabide (Nire aitaren fusila. Hiner Saleem, Alberdania)
Parisen sabela was published by publishers Alberdania and Elkarlanean as part of their "Literatura Unibertsala" collection (111 zk- -) and it is expected that Karlos Zabala will shortly publish two other works in the same collection: L'espoir by André Malraux and Na drini cuprija (The bridge over the river Drina) by Ivo Andric.
Karlos Zabala Oiarzabal
Born in Irun in 1963, he has a degree in Basque Language and a Masters in Translation from the University of the Basque Country. Before completely dedicating himself to translation and literary creation, he gave classes of dancing, worked in a chocolate factory and was a secondary school teacher of Basque language. For seven years he has been translator of the Boletín Oficial de Álava (the Official Alava Gazette).
As author of stories and poetry, particular mention has to be made of his contributions to the Plazara magazine. Winner of the City of Irun Prize in its Poetry section with his work, Mende akabera (1994), as well as the Lizardi Prize for infant and children's literature 2002 with the book of stories, Karakol txikiren ipuinak (Tales of the little snail). Amongst other works, he has translated Mikel Strogoff by Jules Verne, which was published in the collection.
Literatura Unibertsala (nº 97) by the Ibaizabal publishing house and Buda zoriontsuen etxea (The house of the two lucky Buddahs) y João Ubaldo Ribeiro, published by Txalaparta in 2003.