"Translators and the writer" translators´ workshop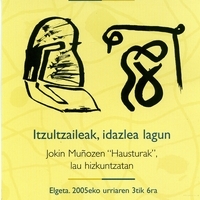 Following on from the excellent experiences from last year , EIZIE has organised a new translation workshop aimed at promoting literary translation of Basque into other languages. Dates: 3 to 6 October 2005 Venue: the Espaloia cafe-theatre in Elgeta (Gipuzkoa)
Translators and the writer
The workshop will take on the translation of the narrative entitled «Hausturak» (Ruptures) by Jokin Muñoz, from his book of the same name. The translation will be carried out directly from Basque into these four languages:

- Gabi Schwab, German
- Roberta Gozzi, Italian
- Daniel Luján, Catalan
- Adam Zawiszewski, Polish
The writer, Jokin Muñoz, winner of the 2004 Basque Literature Prize for his work, Bizia lo (Letargo, will be at the workshop in person to help the four translators over the four days. He will help in the elucidation of any problems that may arise for the translators, in providing information about the text and so on Likewise, the teamwork involved during the translations will enable all those in the workshop to share the experiences arising from linguistic and cultural peculiarities and the translation process itself.
Final session
The workshop will finish on 6 October, with an open debate involving all participants, and in which the results obtained over the four days of seminars will be discussed and analysed. Finally, a fragment of the narration, previously selected during the workshop sessions, will be read out in all five languages. This event, open to the public, will take place at the Montehermoso Arts Centre in Vitoria-Gasteiz, at 19.00.
Publication
The results of the workshop will be published in a special issue of our Senez magazine, which will contain the translations of the narrative, reflections on the workshop, the open debate, etc.