Bologna Children's Book Fair 13-16 April 2005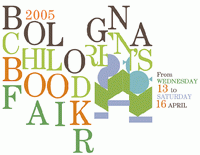 This year, the Bologna Children's Book Fair will highlight the translators' critical role in the development and internationalisation of children's literature and publishing.
In hall 30 (Stand A41), during the four days of the Fair, BIBLIT, an Italian group of literature translators, will run the Translators' Centre, a meeting point where translators can meet, exchange experiences and have a cup of coffee in a friendly atmosphere. In this space, international translators' associations are offered the opportunity of distributing their brochures, publications and all kind of information about their activity.
The Translators' Centre will also include a programme of meetings:
Thursday 14 April
Friday 15 April
11:00 meeting with Roberto and Michele Piumini: «Writing and Translating for Children»
15:00 at the Services Centre, Sala Notturno, children's book translators will have an opportunity to discuss the lasting role of translation as a mean for connecting different cultures by participating in the seminar:
The Making Of Imagery - Writing and Translating for Children
Moderator: Simona Mambrini, translator
On the occasion of this meeting: presentation of the World Directory Of Children's Book Translators, created by the Bologna Children's Book Fair in cooperation with Unesco Clearing House for Literary Translation.


Information:
Bologna Children's Book Fair
Translators' Centre
Show Office
Piazza Costituzione, 6
40127 Bologna (Italy)