Joseba Ossa, head of EIZIE for the next two years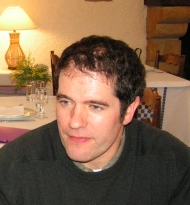 In the meeting in Azkaine on the 26 February 2005, Joseba Ossa was elected unanimously by the general meeting of EIZIE, to be the head of the association for the next two years. In addition, the management committee elected the rest of the members, approved the activities in 2004, revised the moneys and approved the work scheme for the year 2005.
He was born in 1964 and spent his childhood in Zumaia (Gipuzkoa). After finishing his teaching studies in Donostia, he moved to Scandinavia to learn different European languages, namely Catalonian, French, English and Finnish. After spending four years abroad, he returned to the Basque Country and started working as a translator in 1991. Since then, he has been working in this profession. He started out his translation career as a freelancer and is currently the head of a company consisting of a team of 18 translators. He has won the Jokin Zaitegi Translation Prize on five occasions as well as other literary prizes.