Ivan Noble, in memoriam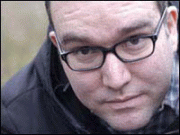 Ivan Noble, the BBC News journalist who has been writing about his treatment for a brain tumour for the past two years, has died aged 37.
Ivan was born in Leeds in 1967 and was educated at comprehensive schools in Luton and Leeds before studying German at the University of Aston in Birmingham.
He lived in East Germany from 1988 until 1990 where he worked as a translator. After graduation he joined the BBC, initially as a translator, then as a sub-editor in Nairobi (Kenya). He became an internet journalism trainer and in 2001 joined the BBC News website science and technology team as a journalist.
Ivan started writing a blog about his cancer (Tumour diary) not long after he was diagnosed in August 2002. There was a huge response from readers, some of which was published with each entry.
Many readers sent comments saying that Ivan's openness had helped them come to terms with their own cancer or that of relatives, and Ivan established a close affinity with some of them.
In his final column, which he wrote late last year in anticipation of being too ill to continue writing, and which was published on January 30, he said the feedback people had given him had helped him survive as long as he had.