400,000 euros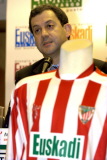 With four hundred euros, the Culture Department of the Basque Government could, for instance, acquire more than 20,000 books for our public libraries, or let's say, the translation of the 50 most important literary works from countries like Belgium or Rumania could be ordered.
With such amount of money, a large number of theatre performances could be arranged throughout a year and across the Basque Country; or, if EIZIE´s proposal would have been accepted, the recently translated Hamlet could have been staged, with the right dignity and brightness, as number 100 of our Universal Literature Collection, with a deserved celebration.
Four hundred euros, or in other words, 64 million pesetas, which the Culture Department of the Basque Government could use to push forward the cultural atmosphere of the majority of small Basque towns; at least subsidizing the hundred and thousands groups and associations working in them who overcome enormous economic difficulties.
With such a large amount of money, our Culture Department could have sent a solid cultural embassy, for instance, to Liege or Bucharest, in order to report about our country; it could have been displayed stands where the people of these cities would have met our gastronomy, art, geography, sculpture, literature, painting and many other things. Moreover, agreements with the main museums of these cities could be concluded, in order to exchange different works of art.
On the contrary, the Culture Department of the Basque Government has granted the 400,000 euros to the poor Atlhetic de Bilbao football team, for the players to show over their red-and-white t-shirts the word Euskadi during the matches that have to be played in Liege (Belgium) and Bucharest (Rumania).
The problem is old: all our political institutions give out large amount of money easily to the millionaire local football or basketball teams for the publicity of Araba, Bizkaia, Gipuzkoa or God knows what; just image. Because, I beg your pardon, but, how many football supporters in Liege or Bucharest will know what on earth does that word «Euskadi» which they will hardly see, mean? Even watching a well-built stone lifter able to lift a 300kg stone 20 times in a row at the beginning of the match!
Koldo Biguri
This article was originally published in the newspaper Diario de Noticias de Álava on the 1st December 2004.