International Literary Translation Summer School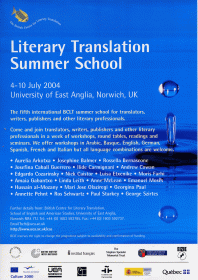 The fifth international BCLT summer school for translators, writers, publishers and other literary professionals will take place from 4-10 July 2004, at the British Centre for Literary Translation of the University of East Anglia , Norwich, UK.
Spend a week translating fiction or poetry from a variety of languages including Basque, English, German, Spanish, French and Italian. Round tables, readings, and seminars supplement the daily workshops where participants work with translators and a writer on the translation of a short text. New language options for 2004 include workshops from Arabic, and an English-Lithuanian workshop.
With the support of the EC Culture 2000 Programme, Arts Council England, Goethe-Institut, Casa del Traductor Tarazona, Institut Français, The Stephen Spender Memorial Trust, Cultural Department of the Basque Country, EIZIE, Spanish Ministry of Education and Culture.
Further information in courses section.