Deaf people get their own Bible translation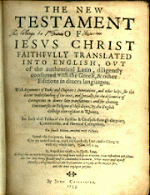 There are plenty of signs in the Bible. Now a big part of the Bible is in signs. An American ministry group for deaf people has just finished translating the entire New Testament into American Sign Language .
The project took about 60 people 23 years to finish. Translators sign all 7,959 verses of the New Testament on camera.
There's still some editing to do, but organizers at the Deaf Missions in Council Bluffs, Iowa say it should be available on DVD and videotape this summer.
Organizers say American Sign Language, not English, is the native language for most deaf people. The group is also working on the Old Testament. So far, they've translated 13 of the 39 books.



CBC News, Canada
20 March 2004