French translators tough to find in Afghanistan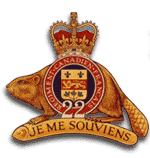 The Canadian Forces put out a call for Afghans to work as French translators, but the only reply is Non, merci. Francophone troops must rely on English.
Canadian troops have spread the word around Kabul for the past two months that they need a few dozen local residents who can work in French with the next contingent of troops from Quebec. But "We can't find any who speak French right now," said Lieutenant Tim Button, in charge of hiring the army's local interpreters.
"We've had one who showed up at the gate who claimed he spoke French, but when I spoke with him he didn't speak French at all. Not a word."
Kabul has a couple of French private schools, along with a French faculty at the university. But graduates seem to have little interest in working with the army. The soldiers in the handful of units from Quebec who have arrived at Camp Julien, the main Canadian base, think they may have to get by with English.
The army has 36 interpreters who speak English and a variety of Afghan languages, mainly Dari and Pashto. They earn about $400 per month, plus overtime, a generous wage by Afghan standards, to accompany Canadians when they leave Camp Julien. (One translator moonlighting with the Canadians makes about $12 a month at his government job in Kabul.)
Lt. Button received boxes of applications last summer when he put together the team of English interpreters. But during the past two months, he put out the word to local religious and community leaders that he was hiring anyone who could speak French, but to no avail.
Some English-speaking Afghan interpreters worked on their rudimentary French but conceded defeat.
"Actually, I learned a few words: Ça va bien? Oui ça va! Comment-allez vous?" said Aurangzaib Sharifi, a native of Kabul who learned English as a refugee in Pakistan for 10 years.
"But actually, we can't speak French. For me, I learned five languages. I guess there is no free space in my mind to learn that."
The danger involved in the job may also be a factor. In last week's suicide attacks against Canadian and British soldiers, two translators escaped injury. They are equipped with flak jackets and helmets on patrol but face many of the same risks as the soldiers.
"It's okay, but recently it got a little bit dangerous," said Wali, who has only one name.
"Some of the interpreters were going to resign. But we have no choice; we must keep this job. I must support my brother and his family and my mother. They told me to quit, but there is no job in town; I have to continue this."




Published in The Globe and Mail.