The Association
Who are we?
EIZIE (Association of Translators, Correctors and Interpreters of Basque Language) brings together professionals engaged in translation or interpreting from and into Basque.
The Association was founded in 1987 with the following aims:
Obtaining legal protection for Basque translators, proofreaders and interpreters, and improving their working conditions.
Watching over the quality of translations both into Basque and from Basque.
Promoting translation both into Basque and from Basque.
Improving the professional training of Basque translators, proofreaders and interpreters.
EIZIE is member of FIT (International Federation of Translators) and of CEATL (Conseil Européen des Traducteurs Littéraires).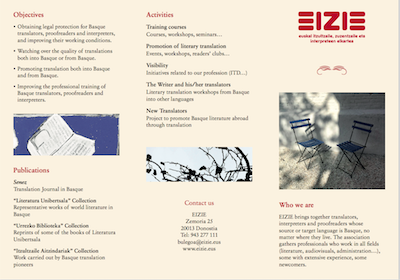 Download the leaflet (PDF)
---
How EIZIE is organized
The highest governing body of the Association is the General Assembly made up of all members. Members elect the Council every two years.
The Council gathers once a month in the headquarters of EIZIE to take decisions about the main activities of the association.
These are the members of the Council in 2021: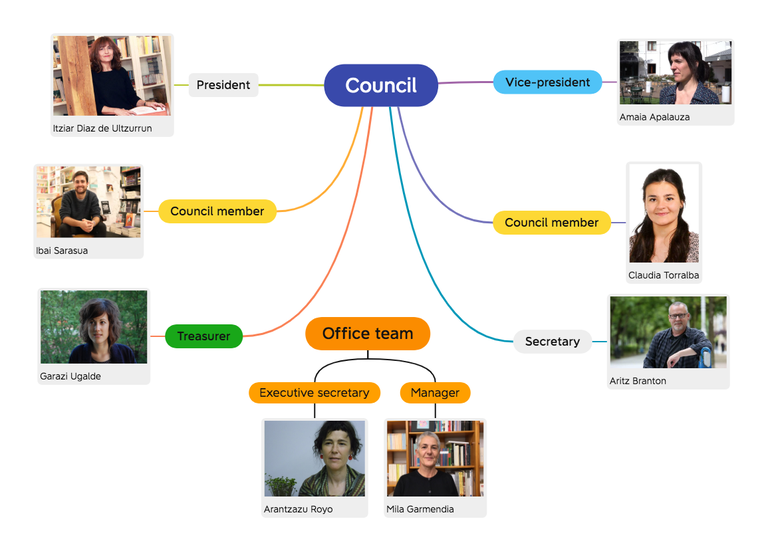 The functioning of the association is divided in several fields, and members of the council are in charge of them:
Additionally, members that are in charge of a specific task also take part (other members also collaborate, depending on the task):
The office team is formed by Mila Garmendia and Arantzazu Royo.
---
History
Arising from an initiative by some of the teachers at the San Sebastian Translators' School, the first steps to form a Basque language translators' association were taken in 1987. The aim was to enhance the social prestige of those working in this field and to defend their professional interests. The founding General Meeting was held in 1988 involving some 60 translators and at which the following statutes laying down basic aims were approved:
Achieve legal cover and protection for Basque translators and to improve their working conditions
Oversee the quality of translation from Basque and into Basque
Promote translation into Basque of every kind of material
Enhance the professional training of translators
Since its foundation, the association has always worked for translation and its professionals.
In 2002, when the annual CEATL assembly was held in San Sebastian, EIZIE published a booklet that explains shortly the history of the association.
Last modified: 22-11-2021